The Plunge Pool
This morning was leg day and certainly easier than Monday. I'm sure that in the next couple days my legs will feel like walking on columns of fire so I'm quite excited.
Having learned my lesson from the last episode I checked the speed setting on the treadmill and lo and behold some funnyhole with actual fitness had set it back in the warp speed range with Mount Everest incline so I dialed it back to my comfortable range, which I like to think of as "Rameneater" pace. 
A brisk saunter one might say.
Several of the people around me had what I'd refer to as a Greek statue physique and were running on the treadmills like they were being chased by a flock of rabid chickens but not one of them was wide eyed and looking over their shoulders, screaming like horrified women.
Like me. 
Yet there I was, briskly sauntering, screaming yet again with flecks of foam spraying from my lips, straining to look over my shoulder for the nefarious fowl.
Checking my speed, knowing full well I had to be around 65mph, the display read…
"IS THAT ALL YOU GOT?"
So not only was I putting in my finest treadmill performance in eons (three days), the MACHINE WAS MOCKING ME.
2.8mph.
This.
This is what had me all foamy and screamy.
I can't imagine what will come out of my open maw when I actually jog.
Being surrounded by pretty people with their chiseled abs, square jaws with just a hint of stubble, shaved chests and designer water bottles is intimidating. 
The guys are attractive too.
I'm going for more of a Pasta Physique down from the current Whipped Mashed Potatoes look I've come to carry around.
I'm quite fluffy.
Anyway…
The weight room calls.
Leg day consists of:
Leg extensions
Leg curls
Leg lifts
Legs burning
Legs falling off
Leaving legs in the weight room because f&$# the legs. 
Finishing up, I pulled out my ear buds and looked up to see everyone standing straight up and staring directly at me.
Although I'd learned my lesson and didn't use vodka for my protein beverage, that stuff makes you quite…
well
…windy.
Apparently I'd been cracking off squeakers the whole time I was listening to my gangster polka song list (much like Amish music but off the chain) and couldn't hear a thing.
I had wondered what the smell was but I figured that's just what sculpted people smell like. 
Not meeting a single gaze lest someone recognized me out in the world, I slunk out and down to the locker room.
The hot tub was calling.
Donning my swim mumu, I stepped into the indoor aquatics center and made my way into the hot and soothing waters of the eighty person hot tub and sank blissfully into its depths.
After about ten minutes I was boiling nicely and getting pretty comfy and hot when I glanced over in the corner and noticed a sign that read "Cool Plunge".
Now, I don't know if they meant temperature or temperament but I was intrigued.
While there was a set of stairs leading sedately into the Cool Plunge, my sense of Indignance was immediately incensed because it has the word PLUNGE in the name.
It's not the Cool Dip.
It's not the Tepid Tiptoe.
No, it's the COOL PLUNGE.
So I jumped right in.
To my immediate regret.
The water in the Cool Plunge isn't cool at all.
It's FRIGID.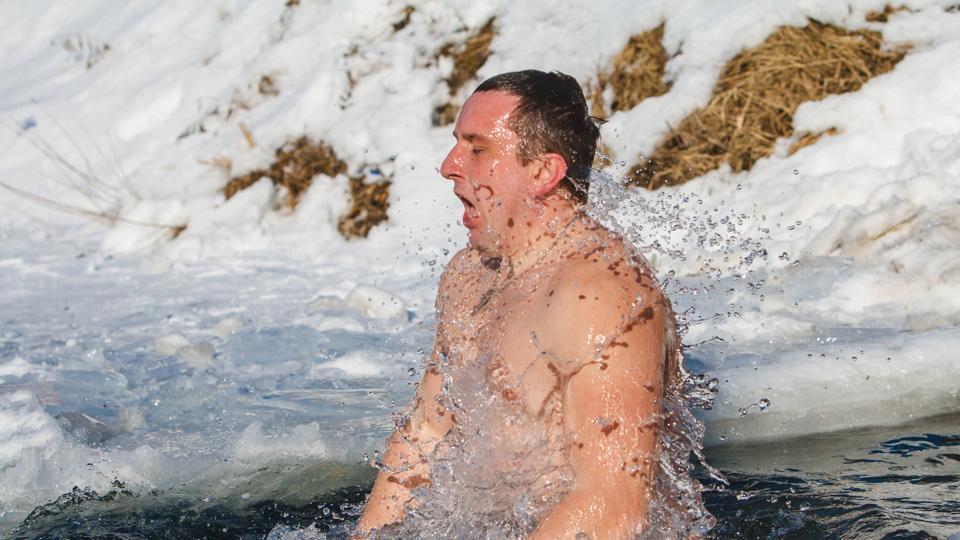 Imagine there's a pool at the bottom of a rapidly melting glacier with an iceberg in it.
Now imagine yourself willingly leaping in with your head to toe skivvies on.
I was an instant mansicle.
I instinctively reached down to protect the cash & prizes but there was nothing there anymore.
The Cool Plunge had a hidden surgical secret and I now had what I could only assume was a mangina.
Every cubic millimeter of the pride and joy had turned themselves inside out in a sense of self preservation.
I never knew I had a 53 inch vertical leap but I guess muscles can contract pretty vigorously when they're chilly and suddenly I was standing flat footed, back on the pool deck and rushing back to my hopeful re-manning in the warmth of the hot tub. 
It's been another excellent morning at Woodside